We're home again and want to offer a review of our journey. BHC'08 in Norway was a blessing beyond compare. We received further lessons in the sovereign grace of our heavenly Father and the infinite love of His Son, our Savior and Lord. The Holy Spirit made His presence and power known at every turn and in myriad ways. And on top of all of that, the people who came by divine appointment were encouraged in the Truth. Pulling this mini-conference together after the door to Prague was closed to us was a bit of a task.

Thankfully the Holy Spirit intervened and arranged every detail. We had a place to stay and work, a last minute provision for a childcare helper, and plenty of attendees.
The Lord brought believers to us who represented Finland, England, Jamaica, Lithuania, Scotland, Cambodia, the USA, and of course Norway. For the first time ever we had racial diversity among those who came to hear God's directions for discipling the next generation. It was all an amazing answer to prayer.
One of the interesting opportunities we were granted was a lecture at the University of Oslo. We presented the history of home education in America to a mixed Christian and secular audience. All of the listeners were fully engaged and the discussion that followed was lively, to say the least. A professor of education told us afterward that he had never considered the concept that parents were responsible for the education of their children. His expression supported his voiced intentions to ponder the idea. May the Lord provide a breakthrough in this man's heart.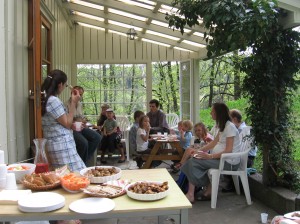 Another opportunity for ministry brought moving results when a father asked if we might be available to discuss some family issues privately. We sat down with him and his wife and, with the help of a translator, shared Biblical truth into the disarray we'd witnessed. We'd been praying for an opening to offer encouragement and God provided it. The significance of this godly man asking for guidance in this intimate area was not lost on us. God was/is at work to free this family from the bondage of a past warped by Communism. A personal detail of this exchange is that the translator was in the same situation at BHC'07 and her family has been transformed by God's grace. Romans 12:1,2 God provided meaningful worship times at the beginning of each session.
At our Sabbath gathering we received images of the heavenly choir as we sang traditional hymns in our own heart languages. There were countless hours spent sharing one-on-one between the lectures, seminars, and meetings. We are in awe at what the Lord can accomplish in ten short days. Please join us as we pray for all He will now unfold in and through the circle of influence of the education department at a national university, in the lives of each family He has called unto Himself, and in the broader cultures of the various countries represented. May His name be revered in all the earth.