Sandra was the guest speaker at the first ever Ladies Retreat for the Presbyterian Church of Boatswain Bay. More than 50 ladies attended and it was a joyous time of sharing, learning, and fellowship in the Lord. Blessings were numerous and rich all around. The Boatswain Bay church was the Lovelaces' first call after seminary more than 30 years ago.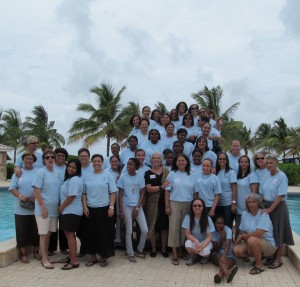 The topic was Praising God in Hard Times and the ladies reported that they found Sandra to be "knowledgeable, well prepared, inspiring, practical, warm, humorous, and caring". They also stated that her talks were "easy to follow, thought provoking, from a realistic perspective" and were "applicable to today's issues as well as how we make future choices". It seemed the Lord's face shown on every lady who attended. About the only negative comment was that the retreat was too short.  😀
Sandra reported that she was deeply blessed by interacting with so many precious sisters in Christ. She finds that when God's Word is the agreed upon foundation a warm, loving, and meaningful relationship develops and this gathering was no exception. There were serious discussions, powerful prayer times, and a session for games and fun. Of course there were plenty of opportunities for the ladies to lift their voices in praise to our loving God! The retreat committee did an incredible job of creating an environment where so many ladies could learn and grow.
The intense and delightful fellowship of the retreat was only one aspect of Sandra's visit. She also attended Boatswain Bay church where she met many fellow-worshippers from 'the olden days'. What joy she found in the ongoing work of the Holy Spirit in West Bay.