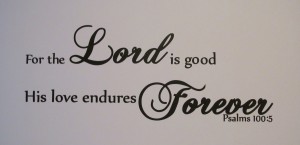 These words are from a new stencil a houseguest installed on one of our walls. It provides a new look for our new home as we serve families who desire to learn and grow together in the things of God.
Psalm 100 is especially fitting as it calls out to God's people to be joyful in our relationship with Him. It's the mindset we seek to nurture and display as we teach nationals and expatriates in this region and worldwide about Christian education and biblical family life.
This particular verse reminds the believing heart of the reason to be joyous in praise, thanksgiving, and worship. God's everlasting goodness and love are grounds for rejoicing no matter what the circumstances are around us.
The new addition to our flat and new phase of our ministry are echoed in the new face of the LWF website. Our ideas have been months in the planning and applying phases, and we're happy to say they're complete – at least for now. We welcome your encouraging feedback.