More than 40 families from all over the UK and transplants from several other countries gathered at Rora House Conference Centre for a week of camping. Curt and Sandra were welcomed with open arms and hearts, as was their intern Rachel. In spite of rain every day but one, the fellowship and fun was as bright as any sunny day in July could make it.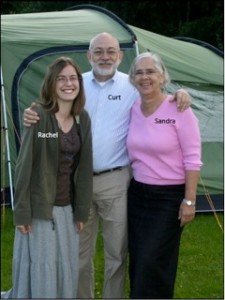 Every day was filled with meaningful activities in a joyful environment. There was psalm/hymn singing with four part harmony most mornings. One afternoon was set aside for a giant craft session. Rachel assisted at one of the tables that filled the barn meeting space. There were times set aside for the reading of a Shakespeare play. Sandra joined that activity and had a delightFUL time with the other readers.
Another afternoon was set aside for the ladies to enjoy a beading session. There was a paintball excursion and an orienteering experience organized away from the campground area. Two groups, younger and older, met daily for practice in country dancing. Whenever there was any free time amidst all the activities, the young people took over an upper field and played 'human net ball'. Sandra joined the cheering section more than once and quite enjoyed the crew.
Daily sessions were set for lectures aimed at the youth based on the Vital Topics of Church History. Dr. Rowhinton Mody did an excellent job of  presenting some of the historic issues of the Church by explaining the lives of  some of the great men of the faith, the problems they faced, and their relevance to the Church today. Curt presented a series of talks on the ". . . One Another" passages of Scripture each evening. It was a joy to have whole families gather to hear teaching from the Word of God. Sandra answered questions over tea with the ladies on two occasions. A powerful lecture was given by Alex Lowry on Coming to Christ as a Person with Autism. Another talk was given by a young lady on the value of training in speech and drama. There was plenty going on to interest, educate, and entertain everyone.
In the midst of all of this the Lovelaces and Rachel were scheduled in various spots for lunch and dinner. These mealtimes were precious opportunities to get to know the families as well as enjoy home-cooked meals. Loads of delicious memories were made on both counts. In a way, it was like meeting long-lost cousins. Of course there were also occasions for private conversations and Curt and Sandra made the most of those in order to encourage and build up parents and young people alike. Rachel ended up making some new friends as she did her best to let them know what life is like for teens in the USA.
The LWF team fully enjoyed the closing event which was a full country dancing session in the Barn. The bow on the top of the package was the feedback Curt and Sandra as well as Rachel received. It seems that adults and children alike were blessed by this ministry outreach. The Lovelaces give all the glory to God for His grace and intervention. They're even prepared to turn around and do it all again.