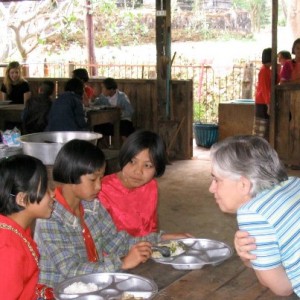 Who would believe it?
Our ministry has spread far and wide over the last 20+ years, but Europe has been a primary focus. That's one of the reasons we moved to Prague last fall. However, we were in Kenya in January. Evidently God doesn't intend to keep a close limit on our outreach in His Name.
Sandra was in a certain Asian country early in 2006. This photo is from a visit she made to a school that serves the rural people there. Many of them were refugees from bordering nations. The sweet nature of the children, especially the young girls, drew them to her heart.
Fast forward to 2012.
LWF was contacted recently by an organization reaching out to help refugees in the same nation. They are concerned with more than the basics of life; food, water, housing, clothing. Parents have expressed their deep desire for their children to receive an education – almost impossible for refugees. The organization is responding with concern, interest, and research on how to meet the need.
God directed one of their contacts to get in touch with LWF in Prague. Only God would know six years ahead of time that the email was coming and grant us enough background and insights for us to offer practical suggestions as well as meaningful encouragement and specific prayer. When God's involved the sky's the limit – well, above the sky's the limit!
May God be glorified in every aspect of every LWF outreach.