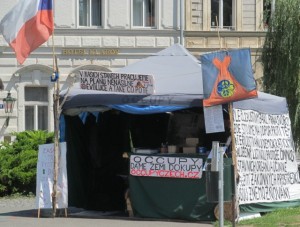 Occupy! That's the name and the strategy of a movement that is making itself known around the globe. Temporary shelters such as this one in Prague are set up as a base of operations. They often incorporate housing for their participants. The occupiers use these sites as rallying points in their campaign to promote their views and sentiments about their culture.
LWF has some similarities. The Lord has given us a place to live from which and in which we can encourage families in their desire to live a life pleasing to God. We're not interested in taking over anything. We do want to promote biblical views and godly sentiments in the face of culture around the world. Since education is a mainstay in this process we find ourselves interacting with parents and children, schools and governments. It's not so much a campaign as it is a lifestyle.
Followers of Jesus are called to this way of life in 1 Peter 3:15. "But in your hearts set apart Christ as Lord. Always be prepared to give an answer to everyone who asks you to give the reason for the hope that you have. But do this with gentleness and respect. Our goal is to assist people in living in ways that glorify and bless them with peace and joy.