More than 130 people attended the first ever Prague Homeschool Conference. It was a huge event that went well beyond the organizers' expectations.
The attendees were a mix of veteran homeschoolers, those who recently began, and others who were considering the option. There were a number of worldviews represented throughout the group. Some homeschool with an intentionally Christian perspective, some with a secular frame of reference. It was also clear that approaches covered the usual span from complete un-schooling to classroom look-alikes. Even the speakers displays a wide variety, from professionals with degrees in education to parents with years of hands-on experience.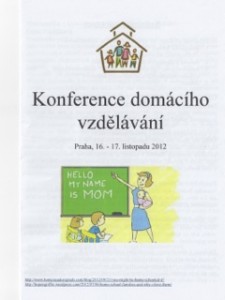 The first display area we came to held tables filled with books, mostly in Czech but a few in English. Another area held educational resources of all kinds that covered a wide age range of interest. There was even a curriculum and material exchange in a nearby room. It was hard to tell who enjoyed these offerings more the children or the adults. Throughout the two days there were warm and relevant conversations being carried on in every room, hallway, and corner.
And what would a homeschool conference be like without the all-important refreshment tables? The sandwiches and pastries were delicious and there were plenty of hot and cold drinks for everyone.
A ministry for children was overseen by a veteran homeschool family whose children served right along side their parents. There were joyous faces all around as little ones made their way from place to place as needed. Most parents chose to make alternate childcare arrangements, evidently choosing to use the conference as a couples retreat of sorts.
For us the conference was yet another piece of confirmation that God has us right where He wants us. We were delighted and inspired by all the families we met. We learned a lot from the speakers in the sessions we were able to attend. The material they asked us to share (our personal experience, what we've gained from the international service we've been given, and how to deal with opposition to homeschooling) prompted meaningful discussion on .
Both days of the conference were wonderful. We made a lot of new friends and were thrilled to sense the "pioneer" spirit among them.