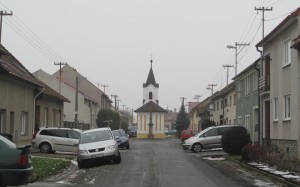 Some people live in large circles.
Some people live in small circles.
We're thankful that we live in a position that allows us to encourage families no matter how many languages they speak by enhancing the education parents seek for their children no matter what size circle they call home.
One of the families we visited last month lives in Kralický, Czech Republic. This photo includes the entire downtown area. The housing is surrounded by  plenty of beautiful and productive fields. There are no buses or trams which is why you see so many cars. The walk to the stop for the train is short, but the service is often erratic. There are no stores, gas stations or other such conveniences.
In this family Dad speaks primarily Czech and Mom primarly English. Their renovated home is a cozy and welcoming place for their rich and busy life. The four children have friends in the village and participate in a variety of activities. A flock of 12 hens guarded by a feisty rooster provides eggs for the delicious treats they serve. We offered all the encouragement and educational insights we could to Dad and Mom. Our time with the children was full of enjoyment. Read more about our visit to this tiny community outside Oloumoc.