For the first time in their history, Czech voters have elected their President. In January, Czechs went to the polls twice in a two-round election and made Miloš Zeman their President. He will serve a five year term.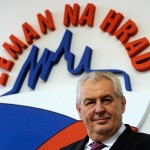 Since the Velvet Revolution in 1989, presidents (of Czechoslovakia, then the Czech Republic) had been selected by the Senate. No fewer than twenty candidates took out nomination papers for this initial election by the people. The 20 were whittled down to nine by various criteria before the first round in early January. In the final step the top two candidates, Zeman and Karel Schwarzenberg, faced each other in a run-off.
Please pray for President-elect Zeman (he takes office on 8 March) and for this nation as it continues to experience its new-found freedom. Pray also for the continued spread of the Gospel in this land.