Can the presence of children in a worship service be disruptive? Absolutely. But as we've explained in this book, it takes training and perseverance to bring about the desired result of families in worship together. It takes patience on the part of the families with children and on the part of the worshippers around them.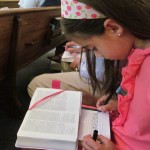 Are there times and circumstances that call for a place for parents with noisy, sick, or defiant young ones? Yes. Call it a nursery, a cry room, whatever name you wish. Allowing and encouraging families to worship together, creating an atmosphere conducive to the practice, does not preclude ministry to those who are not ready or able to participate fully.
We must also remember that our goal as spiritual leaders is not just imparting knowledge, not just the intellectual stuff. Knowledge must always promote wisdom, that is, seeing things God's way.  As we seek to serve the entire congregation, we must remember that, "It was he who gave some to be apostles, some to be prophets, some to be evangelists, and some to be pastors and teachers to prepare God's people for works of service, so that the body of Christ may be built up until we all reach unity in the faith and in the knowledge of the Son of God and become mature, attaining to the whole measure of the fullness of Christ."[1]  Unity in the faith is what we seek and that which we leaders should be striving to model and teach.
---
[1] Ephesians 4:11-13
-Children in Church