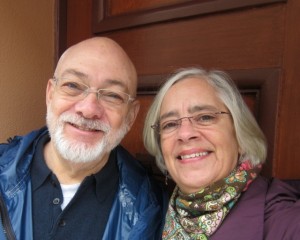 Friends offer a Major Incentive:
"We are raising $2,000 to invest in Curt and Sandra's attendance at the European Leadership Forum. My wife Sophia and I will match every gift dollar-for-dollar up to that amount. We need those of you who feel passionately about ministry to develop Christ-centered families abroad to donate, $10/$25/$50/$100. Every time you do, we'll kick in the same amount.
The pages of this website describe the Lovelaces' unique ministry. Simply click Donate to contribute a tax deductible gift for this project to bless Europeans through the Lovelaces."
(Please include Conference Grant in the PayPal Subject or Message box.)
Craig and Sophia explain,
"We need to send Curt and Sandra to the European Leadership Forum this spring. It's strategic. The conference focuses on identifying, uniting, mentoring, and resourcing evangelical leaders throughout Europe, equipping them for ministry. Trust me when I say that these leaders need to meet Curt and Sandra. The Lovelaces have already been granted the required invitation and are hearing from interested parties just based on the idea that they may be attending."
Craig and Sophia share,
"Many of you know that we homeschool our horde, and many of you either homeschool or support the freedom of families to pursue it as an educational option. We are gratified to live in a country that allows us this fundamental freedom, and to live in a community that is so full of home educators.
"The Lovelaces are genuine homeschool pioneers, and the first homeschooling family Sophia and I had ever met. Curt pastored a church near Boston at the time and they were educating their children at home long before it was culturally acceptable. In fact, given the regulatory climate in Massachusetts at the time, it was actually dangerous. To say they had a formative impact on our family would be an understatement.
"Europeans, however, aren't so fortunate. There are precious few voices for educational freedom, and homeschooling families have little or no support in their communities. Quite often they face hostility on top of tight regulations. This is where Lifework Forum comes in. Curt and Sandra Lovelace are "retired" servants living in the Czech Republic, and one big part of what they do is to encourage families throughout Eastern and Western Europe who are or want to pursue homeschooling."
Craig and Sophia conclude,
"Following 30 years in the pastorate, Curt and Sandra are deepening their 20 year global impact. Their ministry is much like that of L'Abri Fellowship where they both studied and worked under Francis and Edith Schaeffer. The Lovelaces welcome guests into and travel out from their home in Prague to bring information, support, and enthusiasm to encourage families. It's important, foundational work and they are eminently equipped to do it.
"Thanks for joining us by participating in the challenge!"
(Remember to include Conference Grant in the PayPal Subject or Message box.)