God has a way of transforming needs into ministry opportunities. We experienced just such a metamorphosis by opening our home to a Czech family of four.
Homeschool families in Czech must be connected with a public school for oversight. The "Andersons" are a family we met a few months ago at a homeschool gathering. When we realized they had no family or friends to stay with on a recent trip to Prague, we invited them to spend the weekend with us. We received their acceptance as a privilege.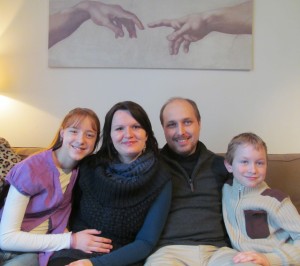 Through the Anderson's graciousness we learned that student evaluation sessions tend to be a mix of oral and written work which is individualized between teacher and child. "Andrew" the eight year old boy could hardly wait to show us two of his notebooks about projects and field trips. We were duly impressed.
We asked 13 year old "Alice" if she had been nervous going into the evaluation. Homeschoolers above grade five are currently involved in a Pilot Program to determine the feasibility of raising the governmental regulations to the secondary levels. Thus, their evaluation process is more highly pressured. She seemed to take the testing in stride and felt as if she'd done well. We're pleased to report that her English is practically fluent.
In the midst of maintaining their household and meeting the educational needs of their children, Dad has been lending an extra hand while Mom worked on her Bachelors Degree in education. One of the conditions of the Pilot Program, to be a future requirement, is that the primary instructor, usually Mom, must have a university degree. Sandra was bowled over when she realized that Mom earned her diploma last year in the midst of such stretching responsibilities. After all, it's still the pioneer days in Czech.
During our visit, we did our best to gently introduce a taste of America to the Andersons. Andrew and Alice learned to set the table USA style as well as how to clear it and load my dishwasher. They helped with several tasks for meal preparations. We served meatloaf for dinner and egg salad sandwiches for lunch. Both were recipes they never tasted before but seemed to enjoy. Dad introduced us to bramboracky (hope I spelled that correctly) when we ordered lunch at a restaurace before they left. These are potato "cakes" (sort of like tater tots) with tiny pieces of Prague ham in them. Delicious!
One of the activities parents enjoy when they visit our flat is review of the curriculum and resource samples we have on hand. While Dad and Mom made their way through a stack of materials, Sandra spent time with Andrew and Alice. They searched the internet together for interesting projects. Andrew made a nifty wallet out of a juice container. The screw-on cap held the accordion-pleated pouch closed. Alice made a small 3-D paper horse and a red Spanish fan. In between the seasons of concentration, Curt introduced them to the card game re-named Challenge by parental request.  (War)  It was a rousing afternoon of fun.
Oh wait, in the middle of all of that we realized we needed to hurry if we wanted to see the noontime changing of the guards at Prague Castle. We quickly put on as much warm clothing as we could to fight the freezing temperatures and headed out the door. A 10 minute walk got us into the upper courts and we made our way around St. Vitus Cathedral to where we thought the ceremony would be. Oops, it's held back up at the other entrance. Dad, Andrew, and Alice rushed to the spot. We made it just in time to appreciate the festivities for the very first time for all of us.
One of the benefits we received during the visit was some helpful tutoring on the topics of Czech language and culture. Our vocabulary, pronunciation, and understanding of Czech received numerous warm pokes and prods which we received with joy. A few cultural lessons came our way about how to interact in various social situations. We can use all the help we can get and the Andersons are generous tutors.
Sunday is the Sabbath and the Andersons enthusiastically joined us for worship. The children's hopes to ride the metro and walk across Charles Bridge were met on the way home since the outside temperature had warmed enough to make walking pleasant. We found our relationship with the Andersons much more like welcoming long-distant relatives than meeting brand new friends. God keeps making His ways clear.
We look forward to deepening our friendship with the Andersons. There will undoubtedly be a variety of reasons for them to come into Prague. We're hoping we'll get to host them whenever they make the journey.
Feel free to look through some of our other adventures on the pages of the LWF site. We'd be delighted to hear what you think about what you find. If you'd like to receive a copy of our monthly e-updates, please send us your email address. May God's peace fill your heart as He guides you in His path.