Us
Hello. We're Curt and Sandra Lovelace. We've been married for nearly 50 years. We have two grown, married daughters and three grandchildren so far. We've spent our entire adult lives in the world of education. Downhill skiing and bass fishing are two activities we enjoy to relax.
Our current ministry is to encourage those God brings to us to live in ways that glorify Him and bring them strength and courage, peace and joy. We deliver our messages of hope and confidence through our writing and by speaking at conferences, seminars, retreats, and small groups. We provide further support through personal visits, phone calls, email, and Skype.
Our Outreach
The title Lifework Forum comes from the concept that a person's life is his or her work. As with an artist's lifework, one ought to be able to look back over what has been produced and see the expression of their worldview. For the Christian, that means clear evidence of the redemptive power of Jesus Christ.
We address a variety of topics, often on Christian education and family living, but we also delve into such areas as politics and recovery. We're happy to arrange a visit, conference, or seminar for your family or group. Email us to start the conversation about what might bless you.
Our Training
We met and married in college, graduating with education degrees. Curt in the fields of Political Science and History and Sandra in Elementary Education and French. We went on to earn our Masters degrees, Curt in Revolution and Sandra in Communication Arts. Curt continued on for His Masters and later Doctorate in Ministry. Sandra has post-graduate work in Language Development and Student Assessment.
In the 1970s we left our jobs as public school teachers and went to Europe. We traveled extensively, ending up at L'Abri fellowship in Switzerland where Curt joined Sandra in her young faith. We spent two years serving those God brought through the chalets.
Pastoral ministry was our training for the next 30 years. During those years Curt cared for several local church bodies, beginning on Grand Cayman in the British West Indies. Sandra served by his side ministering to the women and supporting the ministry to children. God continued to allow us to serve families internationally.
We've spent much time visiting and living in other cultures. These intercultural settings have given us a deep appreciation and love for the diversity of God's people. Both of our daughters were born outside the USA, giving us a special interest to encourage parents in God's call to disciple their children.
As a couple we've provided leadership to homeschool families through local support groups, a statewide board, and through national involvement. We've also served on a national board for Christians in recovery. We've worked together on television and radio. Holy Spirit has been busy in our lives. Zechariah 4:6
Our Boards
Our Board of Directors provides is an active and supportive group of mature brothers and sisters in Christ. They believe in the ministry God has called us to and lend us their hard-won experience and God-blessed expertise wherever and whenever they're needed.
Our Advisory Board is our cheerleading squad. They share their enthusiasm with us via emails, visits, phone calls, skype sessions, etc. They're instrumental in maintaining and extending the critical prayer support we need.
We are humbled by the involvement of so many precious people. We ask God to bless them as He uses all of us to proclaim His Name in all the earth.
Our Travels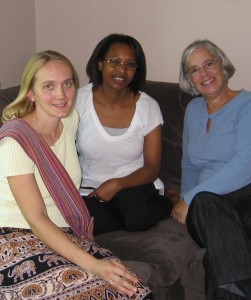 The Lord's been providing opportunities for us to serve people in a variety of cultural settings for nearly 40 years. Whether visiting families in their country or caring for them from our home we find we come to know God more intimately through the diversity of His people.
For us, cultural diversity is a wonderful representation of the unified, triune Godhead. The world is filled with people with a variety of skin colors, languages, food, clothing, traditions, and so much more. Yet every person is created by God and bears His image. Psalm 139:13
Our multi- and cross-cultural travels have brought us to Africa, Asia, the Caribbean, Europe, North America, and Oceania. We have lived in three countries outside the United States, most recently in the Czech Republic. If you'd like to keep up with our adventures, email us and we'll send you our monthly update.
YOU
We find serving God's people an exciting and growing experience. We welcome all invitations with enthusiasm. Share your interest and open the conversation in an email. Our motto is "Have invitation and provision, will travel."
Our Statement of Faith
The following is the framework for all that we do. We seek to act consistently with its content, though it may not be overtly stated in every setting.
We believe that God is the Infinite, Eternal Creator of all things and that He exists in the persons of the Father, Son and Holy Spirit.
We believe that as His disobedient creatures, both by nature and choice, all people are sinners and deserve the wrathful judgment of this Holy God.
We believe that God's love and mercy are expressed in the substitutionary death of Jesus Christ, His only Son, who began His earthly existence through His birth to a Virgin and ended it through His bodily, visible ascension.
We believe that salvation from sin, paid for by the physical death of the One who alone was sinless, is offered as a gift and must be received by personal faith in the above truths and not by works of any sort.
We believe that the Bible is the inspired and infallible Word of God and that it is the operating manual for all of life.